Każdy z nas z czasem staje przed koniecznością wyboru idealnego krzesła biurowego. Ergonomiczny fotel tego typu nie powinien wyłącznie ładnie wyglądać – przede wszystkim powinien gwarantować utrzymanie sylwetki w dobrej (zdrowej) pozycji. Odpowiedni produkt może uwolnić od bólu pleców i uporczywych problemów z drętwiejącym karkiem.
Standardowe krzesła biurowe pozwalają na dynamiczne siedzenie – oznacza to, że umożliwiają zmianę pozycji użytkownika z wyprostowanej w odchyloną do tyłu. Takie odchylane oparcie to jeden z ważniejszych elementów, w który powinien być wyposażony każdy porządny fotel obrotowy. W naszej ofercie można znaleźć dwa warianty w tej kategorii: mechanizm TILT oraz MULTIBLOCK. Obydwa umożliwiają "bujanie się" na krześle, a w razie potrzeby zablokowanie miski fotela (siedziska i oparcia).
Na czym polega różnica pomiędzy tymi mechanizmami?
Fotel TILT – mechanizm tego krzesła jest dużo prostszy, bowiem pozwala na blokadę siedziska tylko w pozycji pionowej. Zwolnienie zapory skutkuje możliwością dogodnego odchylania oparcia wedle osobistych preferencji.

Fotel MULTI-BLOCK – pozwala na zablokowanie oparcia w pozycji pionowej, a także w pozycjach odchylonych, które uchodzą za idealne pozycje do relaksu. To nieco bardziej skomplikowany i rozbudowany mechanizm, który cieszy się dużą popularnością na rynku.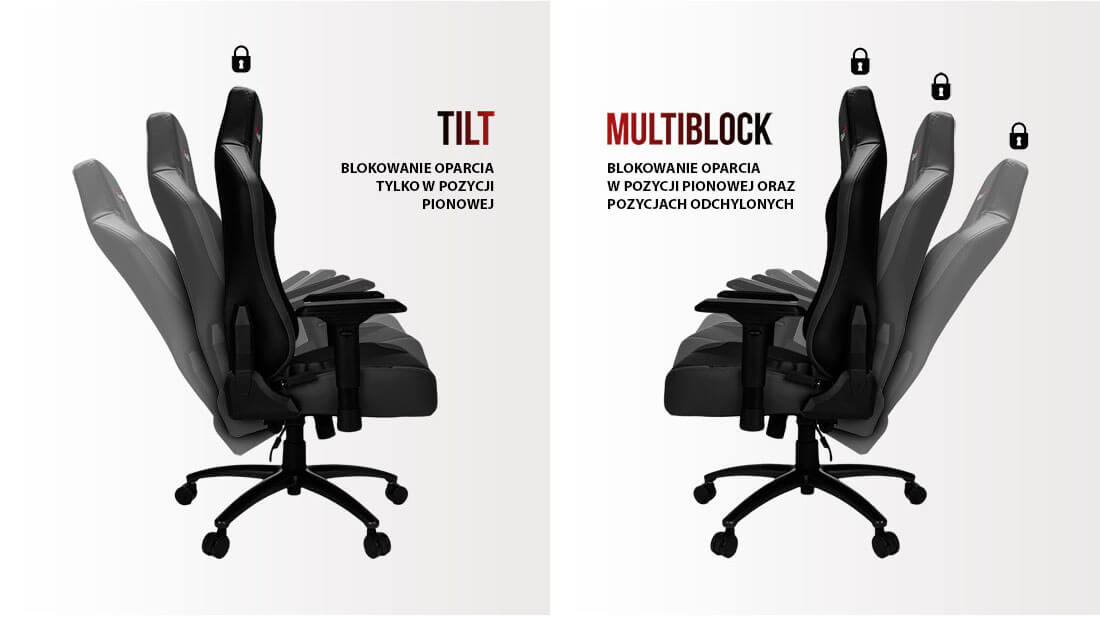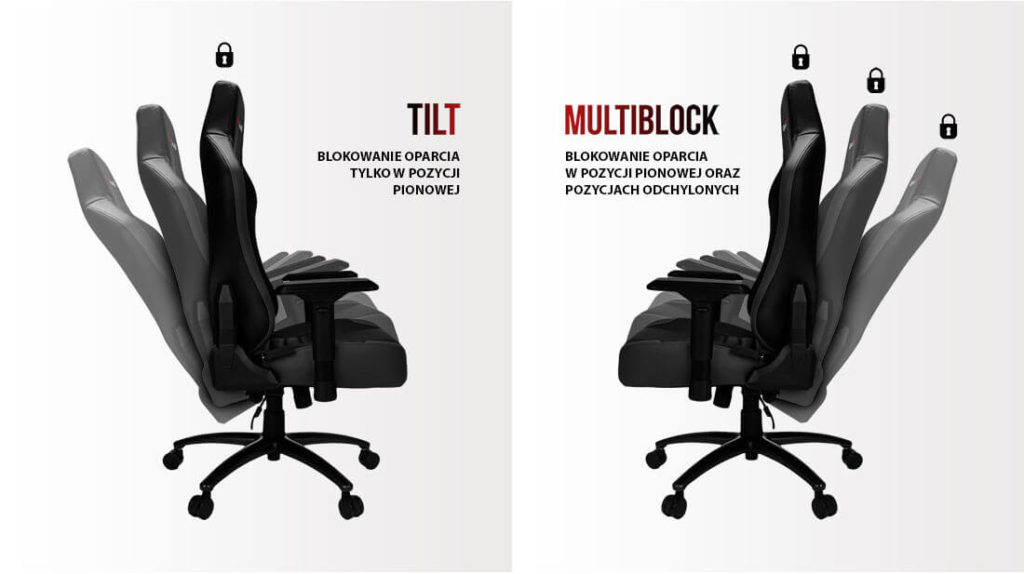 MULTI-BLOCK czy TILT? Wnioski
Reasumując, TILT i MULTIBLOCK to systemy, które są bardzo proste w użyciu i codziennej biurowej eksploatacji. W zależności od modelu krzesła wystarczy skorzystać z dźwigni albo przycisków umieszczonych pod siedziskiem, by odchylić oparcie według prywatnych preferencji i cieszyć się wygodną, komfortową pozycją.
W naszej ofercie znajdują się fotele dla graczy z mechanizmem MULTI-BLOCK, które nie tylko gwarantują funkcjonalność, ale i świetne walory wizualne. Prezentują się idealnie – dopracowane pod kątem najdrobniejszych szczegółów kuszą swoją bezawaryjnością i niezawodnością, gwarantując satysfakcjonujące i długoletnie użytkowanie.
Sprawdź nasze fotele gamingowe, i zobacz, że granie może być jeszcze przyjemniejsze!
Zobacz produkty na sklepie z mechanizmem: