Promocja!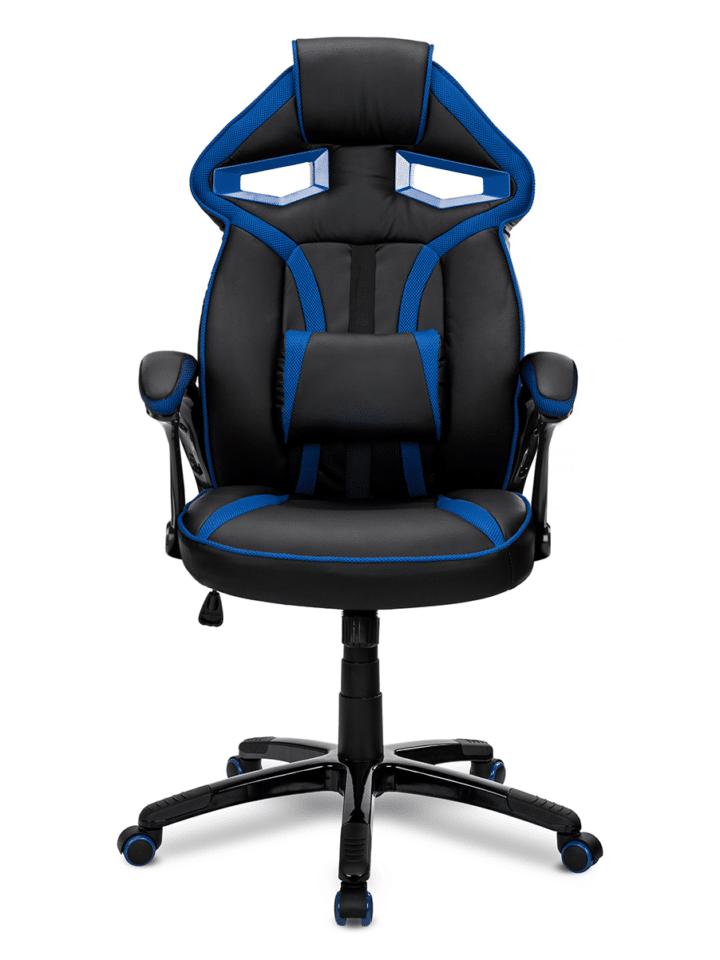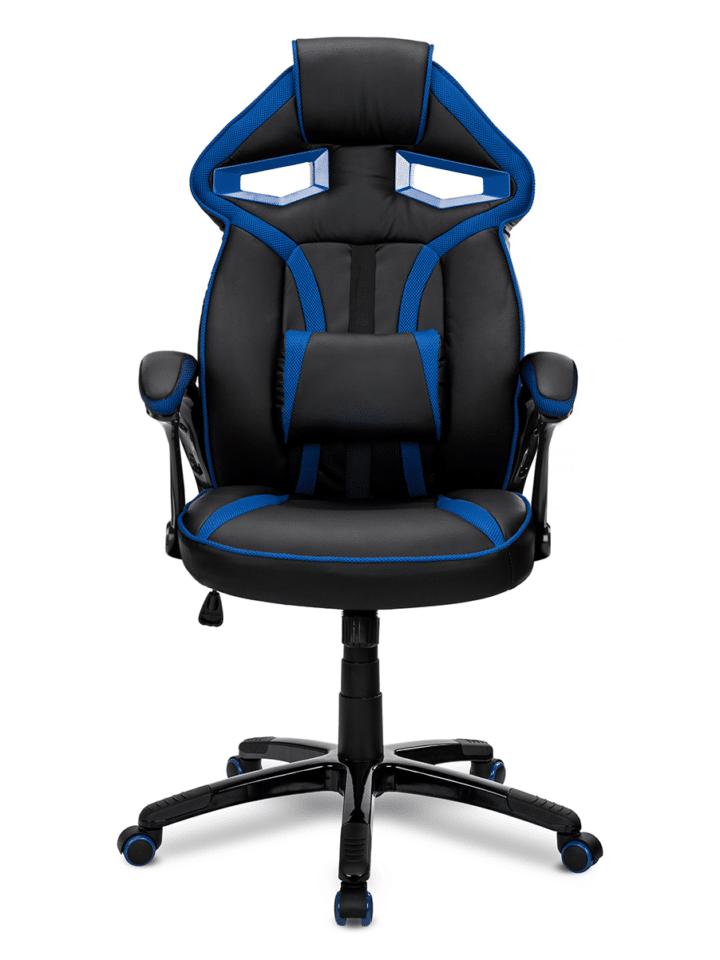 Fotel gamingowy GAMA BLUE
Najniższa cena z 30 dni przed obniżką: 349,00zł.
Odpowiednio dobrany fotel gamingowy jest nieoznownym elementem wygodnego i ergonomicznego stanowiska gamingowego. Fotel obrotowy GAMA BLUE to rozwiązanie dla nawet najbardziej wymagających użytkowników. Wykonany został z trwałych i odpornych materiałów – tapicerka z miłej w dotyku ekoskóry PU oraz przewiewnej siatki jest bardzo łatwa w pielęgnacji i czyszczeniu, szeroka podstawa zapewni pełną stabilizację oraz wysoki komfort użytkowania, a gumowane kółka zabezpieczą podłogę przed zarysowaniami.
Opis produktu
Podwójna warstwa gąbek wysokiej jakości na siedzisku i oparciu
Tapicerka wykonane z trwałej i miłej w dotyku ekoskóry PU, łatwa w pielęgnacji i czyszczeniu
Podłokietniki z miękką gąbką pokrytą ekoskórą
Dodatkowe przeszyciea na oparciu, siedzisku oraz podłokietnikach wykonane z przewiewnej siatki
Wysoki zagłówek zapewnia wygodę i oparcie dla głowy
Ergonomiczna poduszka lędzwiowa
Funkcja blokady siedziska i oparcia
Ergonomiczny kształt – zapewnia wygodne użytkowanie przez długie godziny
Płynna regulacji wysokości siedziska za pomocą amortyzatora gazowego w przedziale 100 mm
Wytrzymała 5-cio ramienna podstawa
Gruba warstwa gąbki najwyższej jakości zapewnia komfort pracy i wygodę użytkowania
Gumowe kółka o średnicy 50 mm
Maksymalne obciążenie: 120 kg
Nowoczesny wygląd Montaż w niecałe 10 minut
Pewne zakupy
Dostawa 24h 
Wszystkie zakupy powyżej 300zł dostarczamy kurierem 24h za darmo. Złóż zamówienie do godziny 14 a zrealizujemy je tego samego dnia!
Oficjalny sklep PRO-GAMER
Jesteśmy producentem foteli i biurek gamingowych – masz gwarancję zakupu oryginalnych produktów z oficjalnej dystrybucji.
Zwroty i gwarancja 
Oferujemy możliwość zwrotu produktu przed upływem 100 dni od otrzymania zamówienia. Produkty z naszej oferty objęte są 2 letnią gwarancją. W razie reklamacji prosimy o kontakt. Wszystkie zgłoszenia realizujemy w 24h!
Obsługa klienta 
PRO-GAMER to gracze a nasza ekipa jest wśród nich! Tworzymy społeczność o podobnych zainteresowaniach i pasji więc jeśli masz pytania czy też potrzebujesz naszej pomocy to skontaktuj się z nami! 
Specyfikacje
| | |
| --- | --- |
| Waga | 19 kg |
| Wymiary | 80 × 32 × 65 cm |
| Kolor | Czarny, Niebieski |
| Tapicerka | Skóra PU |
| Mechanizm | Tilt |
| Podłokietniki | Bez regulacji |
Zamówiłem dwa biurka i fotel, i jestem bardzo zadowolony, podchodziłem do tego dość sceptycznie, ale naprawdę warto czasem wydać trochę więcej, biurka bardzo stabilne, paczka zapakowana bardzo profesjonalnie, jeszcze nie widziałem tak zabezpieczonej paczki i z meblami. Szczerze polecam.
Zamawiałam wiele foteli dla swoich wymagających synów. I odsyłałam ponieważ było to Chińskie badziewie. Natomiast te fotele piszę te bo mam dwa są cudne Piękne i dla wymagających idealne. Chłopcy są zachwyceni. Montaż szybki łatwy wykonanie foteli perfekcyjne .Jesteśmy zachwyceni Dziękujemy
Zamówienie wysłane na następny dzień a dotarło do mnie na drugi. Dobrze zapakowane, jedyny mały minus to instrukcja, która jest dość ogólna do wszystkich modeli, które są podobne w montażu. Pomimo tego z montażem nie było problemu. Fotel wygodny, dobrze wykonany. Myślę że może konkurować nawet z fotelami ciut droższymi od innych firm. Ponadto bardzo dobry kontakt telefoniczny z firmą.
Profesjonalna, miła obsluga. Czułam, że naprawdę ktoś chce mi pomóc i odpowiedzieć na wszelkie pytania, nawet jeśli słyszy je po raz setny.
Profesjonalna obsługa, jak najbardziej polecam zakupy w tym sklepie. Transakcja okazała się szybka i przyjemna
Profesjonalna i szybka obsługa, mimo tego że dostałem Fotel gamingowy bez siłownika, reklamacja została uwzględniona bardzo szybko i siłownik został dosłany po jednym dniu. :)
Produkt bardzo fajny, syn zadowolony. Zamówienie zrealizowane ekspresowo, dobrze zabezpieczone wszystkie elementy do składania. W paczce dodatkowo śrubokręt do skręcania i większa ilość śrubek. Polecam